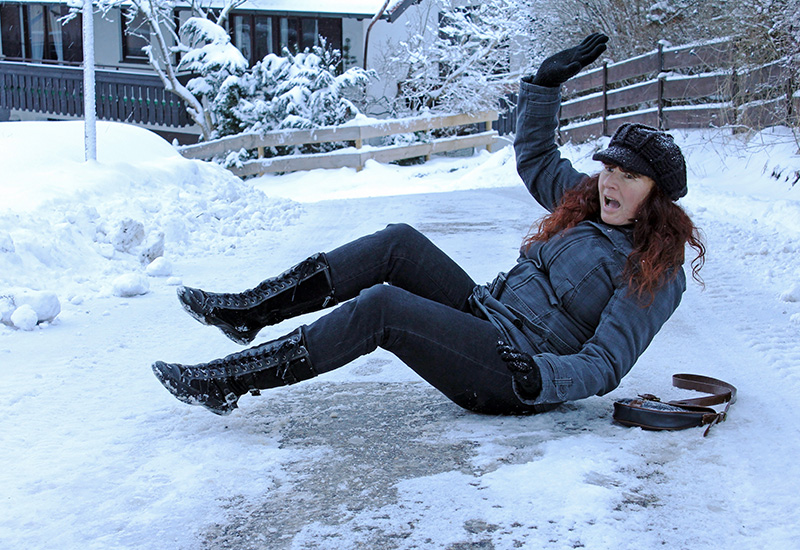 Slips and Falls
You most likely don't expect to be injured when you visit a friend at their apartment complex or while shopping at the grocery store. Sadly, many times people become seriously injured after slipping or falling in common places like these.
The Most Common Causes of Slips and Falls
Winter weather is a culprit for injuries such as slips and falls in Alberta. These accidents can take place due to snow and ice buildup on walkways. Causes include:
Black ice or ice buildup on a sidewalk, driveway, walkway, and stairs
Snow or debris on sidewalks, walkways, driveways, and stairs
Uneven stairways or stairs that are not up to building codes
Sideways or walkways that are uneven
Freshly mopped or wet floors in malls, grocery stores, restaurants, movie theatres or bars
Addressing a Slip and Fall Injury
Removing snow and ice away from walking surfaces is a responsibility of municipalities, businesses, and homeowners. Owners must do their part in reducing the risk of slippery surfaces. Those who choose to ignore winter hazards, putting you and others at risk could be negligent under occupiers' liability law and responsible for your injuries. The Alberta Occupiers Liability act states, "An occupier of a premises owes a duty to take such care as in all the circumstances of the case is reasonable to see that each person entering on the premises and the property brought on the premises by that person are reasonably safe while on the premises."
Experienced Personal Injury Lawyers in Calgary Are Ready to Help You and Enforce Your Rights
When you or a loved one suffers serious injuries due to a slip or fall on another person's property, you may be eligible for compensation. At Grover Law Firm, our experienced personal injury lawyers can evaluate your potential injury claim and advise you on your options as you move forward.