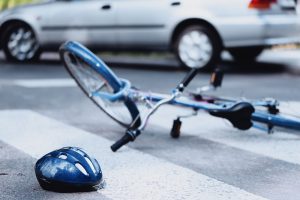 Cyclists enjoy the same obligations and rights as other vehicles on the road. However, it is not uncommon for cyclists to be struck by drivers on the road and suffer serious injuries.
If you are a cyclist who has recently gotten into a bike accident, our team of bicycle accident lawyers near you has put together this list of things you should do:
#1 Take Immediate Action to Protect Your Rights
There are many reasons that you should act quickly after getting into a bike accident. Your main priority should be getting immediate medical attention. Speak to your doctor, even if you believe that your injuries are minor. Potentially serious injuries such as internal bleeding and brain damage are not always immediately apparent. Listen to your doctor's advice until they clear you of injury.
Next, be sure to tell your auto insurance company about the incident- usually, you have seven business days to do this. Your insurance should cover the cost of your injuries.
#2 Compensation is Available
Accident benefits address the financial implications that come along with your injuries. Available money can pay for necessary medical care and physical therapy sessions to help you cope with moderate injuries to your back and neck. More money may be available to help you with catastrophic injuries, including paralysis, brain trauma, or the loss of a limb.
#3 An Injury Lawyer in Calgary Can Help Protect You
You do not have to work with a bicycle accident lawyer in Calgary; however, your odds of getting a fair settlement substantially increases if you hire a lawyer with the knowledge and specialization to help. A lawyer can also provide you with personalized advice on how to speak with insurance companies and present a case for fair compensation.
#4 You May Have Grounds to Sue
Depending on your case, you may have the right to file a personal injury lawsuit against the driver who caused your accident due to negligence. This depends on your ability to prove that you were not at all at fault for your injuries or accident.
Remember that bicycles are viewed as vehicles, and any violation of traffic laws, such as riding past a red light, may impair your ability to file a successful lawsuit. Hiring a personal injury lawyer near you may be useful if you plan to file a tort claim. Your lawyer can review the facts of your accident to determine if you have grounds to sue.
#5 There Are Things You Can Do to Increase Your Chances of a Fair Settlement
If you follow your lawyer's advice, report the accident to the police, record all the evidence of the accident, follow up with your family physician, and meet all the deadlines when applying for accident benefits, you may improve your chances of a full financial recovery.
Visit Grover Law Firm
A bicycle accident is no joke. Cyclists are much more likely to sustain serious injuries on the road than those in cars or trucks. Furthermore, getting in an accident can cause major stress for anyone involved. If you have recently been in a biking accident and are struggling to get fair compensation, contact Grover Law Firm. Our team of lawyers is highly experienced and ready to advocate for your rights so that you don't have to bear the stress of your accident on your own.
To learn more, contact Grover Law Firm to speak with one of our lawyers today.