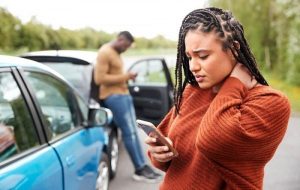 Motorcycle accidents can be stressful, traumatic, and overwhelming. It is natural to feel shocked and scared after being in an accident. Accidents can occur quickly, and you may not fully understand the circumstances that led to them or the extent of damages.
To give yourself and a motorcycle accident lawyer in Calgary the best chance at a positive outcome from the accident, you should ensure that you do the following:
#1 Stay Safe
In the immediate aftermath of a collision, make sure that you stop your vehicle and put your hazard lights on. You are legally required to remain at the scene of the accident. If you find that you are injured, or your vehicle is too damaged, remain in place until emergency responders arrive. Make sure to notify the police about the accident as well.
#2 Document the Scene
If you are not injured, and it is safe to do so, exit your vehicle and assess the damage done to all vehicles and parties involved in the accident. You should make sure that you write down the make, model, and license plates of all vehicles involved in the accident. It would help if you also got the names of their insurance providers as well as policy numbers.
If you can, take down the names and contact information of any witnesses and take photographs of the scene with your phone.
All of this information will be helpful to give to a motorcycle accident lawyer near you and will make the process of getting compensation much simpler.
#3 Take Notes
If you have been injured in the collision, you may not be able to do some of the documenting required in step 2. However, as soon as you are able, make some notes about the accident's circumstances while it is still fresh in your mind. Even if you aren't injured, it is a good idea to do this.
Try to make these notes as detailed as possible, including everything you remember about the accident, including factors such as the weather, road, and traffic conditions.
If you go to the hospital or visit your doctor after the accident, keep track of the names of the medical professionals involved in the case and any treatments or medications you have been given.
#4 Contact Your Insurance Company
You must contact your insurance company within seven days of your accident. Your insurance company can guide you through the claims process. You must contact your insurer as soon as you can so that you have protections in place in case of another party deciding to file a claim against you.
Depending on the extent of your injuries, you may be entitled to accident benefits with your insurance policy, regardless of who was at fault.
#5 Consult a Lawyer
If you are pursuing compensation for serious injuries, it is important to consult a personal injury lawyer in Calgary. There are strict rules around applying for benefits and beginning legal actions against another party. Having a lawyer who is familiar with this complicated process can make it much easier for you and ensure that you get the compensation you deserve.
You should also be sure to speak to a lawyer before you sign any paperwork that allows the insurance company access to your medical records or employment files.
Visit Grover Law Firm
At GroverLaw Firm, our team of experienced lawyers is here to advocate for you. We understand how stressful accidents can be, and you should get the compensation you deserve. Please contact our office today to speak to a lawyer near you.