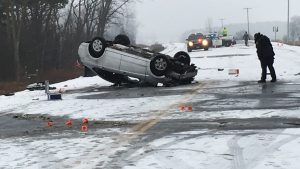 When you are about to embark on a holiday to Canada, you are likely excited to see all the wondrous sights that this country has to offer. From cascading waterfalls to sky-high mountain tops, a trip to Canada can certainly be a dream come true.
No one sets out on their vacation thinking that they will be in an accident, and if you are planning a trip to Canada, you are likely not factoring in the idea of a collision into your visit. Unfortunately, things don't always go as planned. If you find yourself in an automobile accident while in Canada, you will need to know what to do. At Grover Law Firm, our car accident lawyer in Calgary is happy to help.
First, Check for Injuries
Your first priority should always be the health and safety of those involved in the accident. If you or your travelling companions are injured, you should immediately call for emergency medical help. You may feel worried about getting healthcare in another country, but you always need to put your health first. Even if you believe you came out of the collision with no injuries, our personal injury lawyer near you tells you that it is best to be sure since many serious injuries go unnoticed at first but can become severe and even life-threatening if left untreated.
Understanding Canadian Healthcare
The Canada Health Act works to ensure that Canadians receive most of their medical care for free, but this does not apply to those visiting from outside the country. If you are injured, you will need to use your own health insurance or pay out of pocket for the medical care you receive in Canada. Luckily, Canada uses a justice system similar to many other countries, making their process for filing a personal injury claim similar. If the other driver is at fault, a car accident lawyer near you can help you file a claim seeking compensation for the costs you incur for medical treatment.
Document the Scene and Gather Information
Once you have ascertained that no one is injured, you can pay attention to other details of the accident. For insurance purposes and your personal records, it is important to get photographs of the accident scene. This will help your personal injury lawyer in Calgary ensure fair compensation from your insurance company.
You will also need to get information from the other individuals involved in the collision before they can leave the scene. This includes the driver and passengers in the other vehicle, as well as any eyewitnesses. Exchange insurance information with them before moving on to report the accident to your own insurance company. When you contact your provider, be sure to let them know that you have been involved in an accident while on holiday, as this may change the way they ask you to go about doing things.
Visit Grover Law Firm
Once you have ensured that you and your loved ones are safe, you may want to reach out to a qualified attorney to ensure you are taking the right steps for fair compensation. This is especially important if you or a loved one was injured or if your property was damaged. At Grover Law Firm, our dedicated team of lawyers is happy to provide you with the best advice and work with you to ensure that you remain protected.